Clever Leaves and Astrasana Partner to Establish International Supply Agreement For Medical Cannabis Extracts in Czech Republic and Switzerland
TOCANCIPÁ, Colombia, May 30, 2023 (GLOBE NEWSWIRE) -- Clever Leaves Holdings Inc. (NASDAQ: CLVR, CLVRW) ("Clever Leaves"), a global medicinal cannabis company, announced today the arrival of the company's first shipment of medical cannabis extracts from Colombia to Switzerland-based partner, Astrasana Holding AG ("Astrasana"). This marks the first commercial shipment for Clever Leaves to Switzerland, where Astrasana is an established medical cannabis distributor.

Additionally, Clever Leaves and Astrasana are preparing for the first shipment of medical cannabis extracts to the Czech Republic, where Astrasana has pharmaceutical operations and manages its own pharmacy specialising in the sale of medical cannabis.
The supply agreement between Clever Leaves and Astrasana will allow Clever Leaves to expand into new European markets and further solidify its position as a global provider of medical cannabis. Switzerland and the Czech Republic have both seen recent legislative changes in favor of medical cannabis and are at the forefront of the emerging European cannabis industry.
"The Supply Agreement guarantees Astrasana a reliable and consistent supply of medical cannabis extracts at competitive prices, providing planning certainty and allowing for seamless operations," says CEO of Astrasana Holding, Yves Antoniazzi. "This partnership with Clever Leaves not only ensures a steady supply of premium medical cannabis products for Astrasana's customers, but also intensifies the existing collaboration between the two companies, paving the way for future growth opportunities."
Clever Leaves, a publicly traded company with a well-regarded reputation in the cannabis industry, has been operating since 2016 and is known for its expertise in producing high-quality medical cannabis extracts. The company's commitment to upholding the highest standards in the industry aligns perfectly with Astrasana's values and mission to provide safe and effective medical cannabis products to patients worldwide.
"Clever Leaves' first commercial shipment of medical cannabis extracts to Astrasana in Switzerland marks a significant step towards our goal of expanding patient access to high-quality medical cannabis across Europe and beyond. Through our strategic partnership with Astrasana, we look forward to aligning our capabilities and further penetrating new countries in Europe such as Switzerland and Czech Republic. As a company, we remain focused on driving innovation in the industry and creating safe, pharmaceutical-grade products for patients in need," said Co-Founder and CEO of Clever Leaves, Andres Fajardo.
  
With Clever Leaves' global reach and expertise in the cannabis industry, Astrasana is poised to further strengthen its position as a leading provider and distributor of medical cannabis in the Czech Republic and Switzerland.
About Astrasana
Astrasana is a pioneering company in the field of medical cannabis, with manufacturing and retail locations in the Czech Republic and Switzerland. With comprehensive pharmaceutical licenses and a strong focus on quality, sustainability, innovation, and customer satisfaction, Astrasana is dedicated to providing safe and effective medical cannabis products to patients. Astrasana's board of directors consists of doctors and pharmacists which allow the company to have a competitive advantage.
About Clever Leaves Holdings Inc.
Clever Leaves is a global medical cannabis company. Its operations in Colombia produce EU GMP cannabinoid active pharmaceutical ingredients (API) and finished products ​in flower and extract form to a growing base of B2B customers around the globe. Clever Leaves aims to disrupt the traditional cannabis production industry by leveraging environmentally sustainable, ESG-friendly, industrial-scale and low-cost production methods, with the world's most stringent pharmaceutical quality certifications. For more information, please visit https://cleverleaves.com/en/home/ and follow Clever Leaves on Twitter and LinkedIn. 
Clever Leaves Press Contacts:
Maria Petsanas
KCSA Strategic Communications
+1-917-692-6673 | cleverleaves@kcsa.com
Clever Leaves Investor Inquiries:
Cody Slach and Jackie Keshner
Gateway Group, Inc.
+1-949-574-3860 | CLVR@gatewayir.com
Clever Leaves Commercial Contact:
Andrew Miller
Head of Global Business Development
andrew.miller@cleverleaves.com
+1 416-817-1336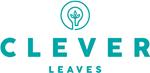 Source: Clever Leaves

Released May 30, 2023