Clever Leaves Cannabis Operations Declared Carbon Neutral; a First for a Vertically Integrated Medicinal Cannabis Company
The CO2 Neutrality Certification Reflects Clever Leaves' Commitment to Environmental Sustainability and long-term vision for the cannabis industry.

Sustainable cannabis production has a significant impact on the environment: Clever Leaves generates just 16 kilograms of CO2 compared to traditional "indoor" cultivation methods that generate up to 2,300 to 5,200 kilograms of CO2 per kilogram of dried flower.
TOCANCIPÁ, Colombia, Aug. 29, 2023 (GLOBE NEWSWIRE) -- Clever Leaves Holdings Inc. (NASDAQ: CLVR, CLVRW), a global medicinal cannabis company, announced today that it has been awarded the International Declaration of Carbon Neutrality by 100% Carbon Neutral Program for its active commitment to environmental sustainability and climate change mitigation. Clever Leaves is the first known vertically integrated medicinal cannabis company worldwide to have achieved international certification for carbon-neutrality.
Clever Leaves is taking proactive steps to address the challenges posed by climate change through implementing a range of efficiency measures to curb carbon emissions and preserve natural resources. These measures include using passive techniques to harness solar energy and optimizing waste management practices. The Company has also forged partnerships with local recycling associations, initiated reforestation projects, and integrated rainwater into its irrigation processes. Through sustainable practices, the company repurposes or recycles more than 50% of waste into productive processes.
"At our core, we work for being a sustainable company. We are among the first large vertically integrated medicinal cannabis companies operating in the newly legal industry, and it is incumbent on us to build an industry that is sustainable and environmentally sound from the start. We feel that there is no better time than now to double-down on our commitment to sustainability and are dedicated to mitigating climate change wherever possible. We are proud to know that our flower and extracts being sold globally are grown and manufactured in a carbon-neutral environment. Furthermore, we believe this will also prove to be important to our clients, physicians, and patients." said Andres Fajardo, CEO of Clever Leaves.
While producing a kilogram of dried flower, Clever Leaves generates just 16 kilograms of CO2, compared to traditional "indoor" cultivation methods that generate up to 2,300 to 5,200 kilograms of CO2 per kilogram of dried flower. The Company's energy consumption per kilogram of dried flower is 62 kilowatt-hours, in stark contrast to "indoor" usage of up to 5,000 kilowatt-hours1
Through the implementation of sustainable practices, Clever Leaves' carbon footprint stood at 318 tons of carbon dioxide equivalent (CO2e) across all production operations in 2022. Furthermore, Clever Leaves has offset its remaining emissions by acquiring international carbon credits from carbonfund.org and supporting emission reduction projects.
This entire process adheres to the GHG Protocol standard and has undergone thorough evaluation and verification by "La Tercera Mirada" and the "International 100% Carbon Neutral Program."
"The fight against climate change requires the commitment of everyone, but mainly from companies that are leaders in their industries. That is why working together with Clever Leaves and turning them into the first Latin American company with the 100% Carbon Neutral® Company certification, has been a truly gratifying experience and one that solidifies the Latin American fight against climate change." said Javier Segura, COO for LATAM of the 100% Carbon Neutral Program®.
About Clever Leaves Holdings Inc.
Clever Leaves is a global medicinal cannabis company. Its operations in Colombia produce cannabinoid active pharmaceutical ingredients (API) and finished products ​in flower and extract form to a growing base of B2B customers around the globe. Clever Leaves aims to disrupt the traditional cannabis production industry by leveraging environmentally sustainable, ESG-friendly, industrial-scale, and low-cost production methods with the world's most stringent pharmaceutical quality certifications. For more information, please visit https://cleverleaves.com/en/home/
Press Contacts:
Maria Petsanas / Anne Donohoe
KCSA Strategic Communications
cleverleaves@kcsa.com
+1 917-692-6673
Commercial Contact:
Andrew Miller
Head of Global Business Development
Andrew.miller@cleverleaves.com
+1 416-817-1336
______________________
1 Transnational Institute. "Cannabis and climate: The carbon footprint and energy use of indoor cultivation. 20 October 2022. https://www.tni.org/en/publication/cannabis-and-climate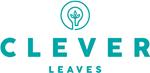 Source: Clever Leaves

Released August 29, 2023