Clever Leaves and Praetorian Announce Exclusive Agreement to Produce Cannabis Genetics in Colombia
Clever Leaves and Praetorian have partnered to produce state-of-the-art cannabis flower and other products from Clever Leaves' GACP and GMP-certified cultivation facility in Colombia
TOCANCIPÁ, Colombia, April 11, 2023 (GLOBE NEWSWIRE) -- Clever Leaves Holdings Inc. (NASDAQ: CLVR, CLVRW) ("Clever Leaves" or the "Company"), a global medical cannabis company, announced today its commercial agreement with US-based Praetorian Global Inc. ("Praetorian"), a leading brand owner and intellectual property provider to the global cannabis and hemp industry, to produce premium quality cannabis flower and downstream products from Clever Leaves cultivation facility in Colombia for distribution globally. Flower products resulting from the partnership will be available by Q2 2024 to medical cannabis patients globally, including the European Union, United Kingdom, and Australia.

The agreement between Clever Leaves and Praetorian will allow Clever Leaves to access new technology and genetics to complement the Company's portfolio of products and further enable the licensing and commercialization in international markets of exclusive genetics for Clever Leaves that are strongly identified and driven by Praetorian-owned cultivation IP.
Beginning in early-2022, Praetorian launched its genetic licensing line of business and currently has executed agreements with licensees whose total global canopy exceeds 8 million square feet. Praetorian's genetic library is now widely considered to include not only the most flavor-forward and aesthetically pleasing, but also the most production-efficient and highest yielding genetics in the industry, particularly through its Oni Seed Co. ("Oni") portfolio and expertise.
Praetorian is also well-known in the US and international legal cannabis communities for its products cultivated from carefully developed genetics, including through the Binske and Oni consumer-facing brands. Praetorian provides access to its intellectual property mainly through licensing agreements with exclusive partners to ensure that its brands, genetics, and products maintain efficacy and consistency across all markets. By the end of 2023, Praetorian currently expects that its products will be sold across four continents.
Under the agreement, Clever Leaves and Praetorian will select specific strains for initial trials at the Company's Colombian cultivation, from which the R&D team at Clever Leaves will be able to further progress in its product portfolio, offering a more diverse variety of carefully characterized cannabis solutions for medicinal purposes around the world. The partnership also includes a license of know-how and procedures to jointly achieve high-quality cannabis products from Clever Leaves' cultivation and production facilities in Colombia.
"Our partnership with Praetorian will enable us to come together and produce the best genetics through Colombia's prime cultivation conditions and the utilization of innovative technology with support from Praetorian. We are thrilled to be working with one of the most prominent names in the U.S. cannabis industry to produce high-quality cannabis genetics, which continues to be a key priority for Clever Leaves," said Andrés Fajardo, CEO of the Company. "We are aligned with Praetorian in our plans to grow our R&D efforts and our dedication to providing an elevated experience with the best cannabis products for patients."
"This partnership is in line with our strategic focus of expansion and diversification across emerging international cannabis markets and sales channels, which collectively represent one of the fastest growing segments in the industry," said Jacob Pasternack, Founder, Chairman and CEO of Praetorian. "We believe Clever Leaves has unique potential to capitalize on this burgeoning opportunity."
About Clever Leaves Holdings Inc.
Clever Leaves is a global medical cannabis company. Its operations in Colombia produce EU GMP cannabinoid active pharmaceutical ingredients (API) and finished products ​in flower and extract form to a growing base of B2B customers around the globe. Clever Leaves aims to disrupt the traditional cannabis production industry by leveraging environmentally sustainable, ESG-friendly, industrial-scale and low-cost production methods, with the world's most stringent pharmaceutical quality certifications. For more information, please visit https://cleverleaves.com/en/home/ and follow Clever Leaves on Twitter and LinkedIn.
About Praetorian
Praetorian is a leading brand owner and intellectual property provider to the global cannabis and hemp industry. Praetorian creates and develops unique portfolios of cannabis, hemp and lifestyle-related intellectual property, including specialized and proprietary product formulations, cultivars, and cultivation and production methodologies and techniques leading to award-winning premium consumer cannabis and hemp products. Praetorian, through its house of brands (including Binske and Oni) and its genetic licensing line of business, provides access to its vast library and portfolio of intellectual property and over 100 years of combined cannabis cultivation and genetics knowledge and experience primarily through licensing arrangements with partners ranging from craft producers to multi-state operators and large-scale cultivators, enabling those partners to bring Praetorian's and their own brands and products to market. For more information, visit www.praetorianglobal.com.
Clever Leaves Press Contacts:
Rich DiGregorio
KCSA Strategic Communications
+1-856-889-7351
cleverleaves@kcsa.com
Clever Leaves Investor Inquiries:
Cody Slach and Jackie Keshner
Gateway Group, Inc.
+1-949-574-3860
CLVR@gatewayir.com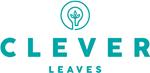 Source: Clever Leaves

Released April 11, 2023