Clever Leaves Expands Presence in Brazil Through Partnership with Hypera Pharma
Multinational operator to supply CBD-dominant oral solutions for Brazilian patients
TOCANCIPÁ, Colombia, April 18, 2023 (GLOBE NEWSWIRE) -- Clever Leaves Holdings Inc. (NASDAQ: CLVR, CLVRW), a global medicinal cannabis company, announced today that it has entered into a five-year agreement with Hypera Pharma (B3: HYPE3), a leading pharmaceutical company in Brazil, to supply Clever Leaves' CBD-dominant oral solutions with the aim of treating various medical conditions and prescribing to Brazilian patients.

Hypera Pharma is one of Brazil's largest pharmaceutical companies in net sales with expertise in the registration, commercialization, and distribution of prescription medicines as well as over-the-counter and skin care products. Clever Leaves' leadership position in the region makes it uniquely equipped to enter and thrive in the Brazilian market, meeting all the regulatory and product quality requirements. The CBD products manufactured under this partnership have been registered under RDC 327 framework and are already being sold into distribution channels such as pharmacies and drugstores. The companies plan to continue the process with additional products.
"Hypera Pharma's history, innovative vision, capabilities, focus on high-quality, and commitment to sustainable growth is aligned with Clever Leaves' values, making them an ideal partner to promote and scale patient access to safe, pharmaceutical-grade cannabis products in Brazil. Expanding our presence in Brazil, a market that prioritizes patient treatment by enabling research and development to ensure technical and quality standards, will open doors for potential new developments and is further evidence of how our platform can support the global pharmaceutical industry by allowing it to engage in the world of cannabis-based therapies with patient safety and product quality at the forefront," said Andres Fajardo, CEO of Clever Leaves.
About Clever Leaves Holdings Inc.
Clever Leaves is a global medicinal cannabis company. Its operations in Colombia produce cannabinoid active pharmaceutical ingredients (API) and finished products ​in flower and extract form to a growing base of B2B customers around the globe. Clever Leaves aims to disrupt the traditional cannabis production industry by leveraging environmentally sustainable, ESG-friendly, industrial-scale and low-cost production methods, with the world's most stringent pharmaceutical quality certifications. For more information, please visit https://cleverleaves.com/
Press Contacts:
Rich DiGregorio
KCSA Strategic Communications
+1-856-889-7351
cleverleaves@kcsa.com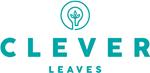 Source: Clever Leaves

Released April 18, 2023